概述
The HT566 is a stereo Class D audio amplifier with multiple audio format port (I2S, LJ, RJ, TDM). It supports a variety of audio clock configurations. The outputs of the HT566 can be configured to drive two speakers in stereo BTL mode or mono PBTL mode.
The HT566 also includes hardware and I2C control modes, integrated digital clipper, spread switching frequency for Class D, and a wide power supply operating range to enable use in a multitude of applications.
An optimal mix of thermal performance and device cost is provided in the 120-mΩ RDS(ON) of the output MOSFETs. Additionally, a thermally enhanced 36-
Pin QFN provides excellent operation in the elevated ambient temperatures found in modern consumer electronic devices.
特点
・Power supply: -PVDD: 4.5V – 16V; -DVDD/AVDD: 3.3V
・Audio Performance
-BTL, 2×20W (PVDD=14.5V, RL=4Ω, THD+N=1%)
-PBTL, 24W (PVDD=15V, RL=4Ω, THD+N=1%)
-THD+N=0.04% (PVDD=12V, RL=4Ω, Po=1W)
-Noise: 85uV (Gain = 16dBV, A weighted)
・Low Quiescent Current in 1SPW mode
-12mA at PVDD = 12V, no filter
・Inductor-free Operation (Ferrite Bead) and EMC compliant for most cases
・Flexible Audio I/O
- I2S, LJ, RJ, TDM input
- 8, 16, 32, 44.1, 48, 88.2, 96, 192kHz Sample
Rates
・General Operational Features
- Hardware or Software Control mode
- 4 Programmable I2C Addresses
- Spread Switching Frequency for Class D
・Robustness Features
- Clock Error, DC, Over Current, Overvoltage, Undervoltage, and Overtemperature Protection
・Packages: Pb-free Packages, QFN28L-4*4
应用
• LCD 电视、OLED 电视
• 无线扬声器、智能扬声器(带语音助理)
• 条形音箱、有线扬声器、书架立体声系统
• 台式计算机、笔记本电脑
• AV 接收器、智能家居和物联网电器
引脚信息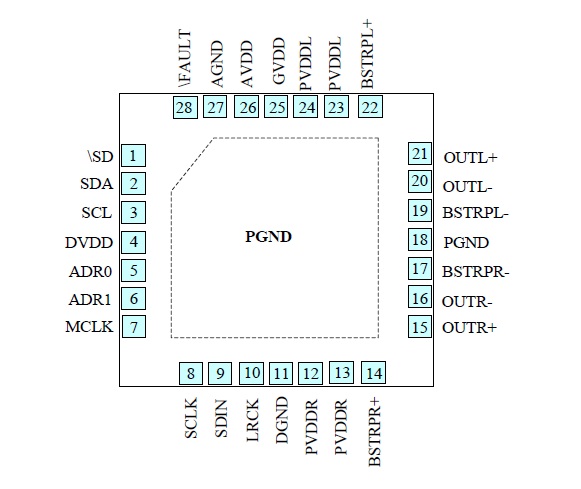 引脚定义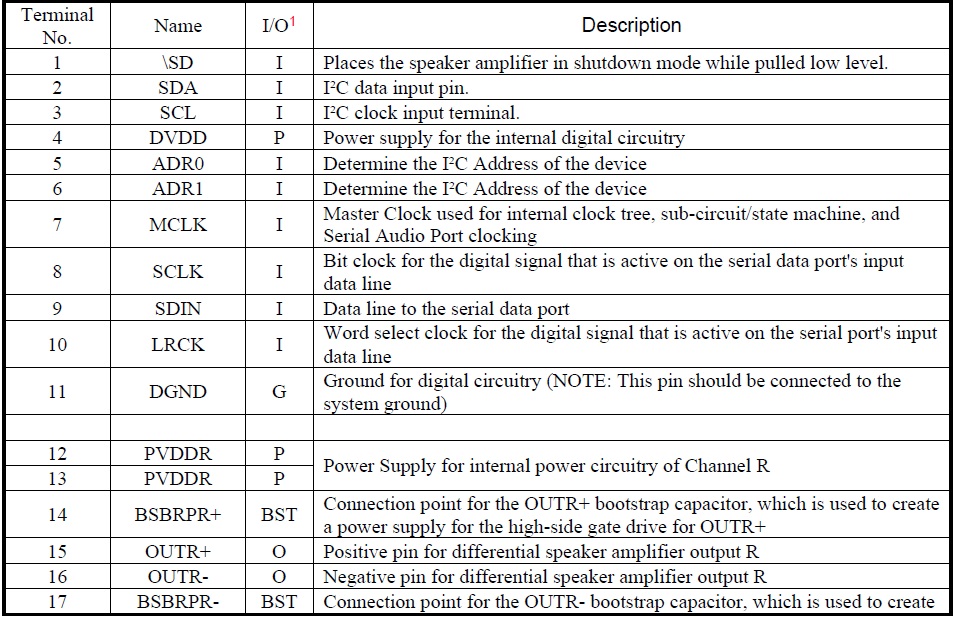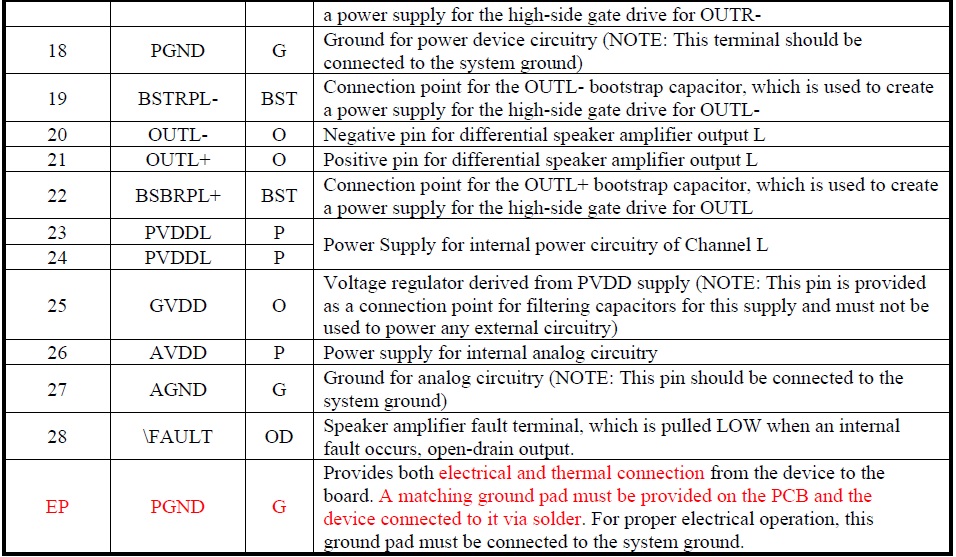 典型应用图